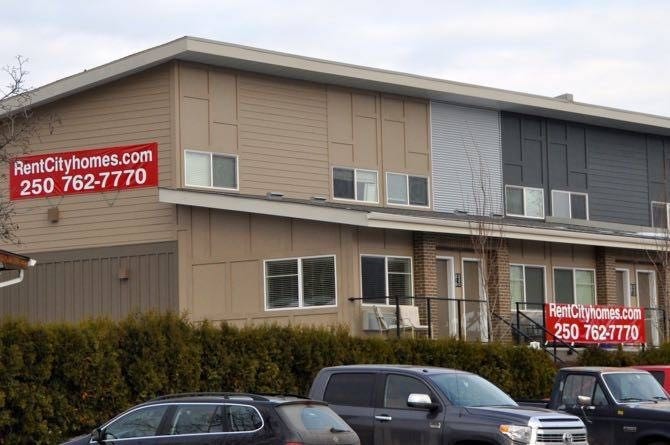 Rental housing construction is on the upswing in Kelowna.
(JOHN MCDONALD /InfoTel Multimedia)
December 02, 2015 - 10:30 AM
KELOWNA - The city has done a lot to encourge development of rental housing and there's not too much more that can be done, except to let the incentives do their work and keep on pushing for more.
That's the opinion of Luke Stack, a city councillor and also executive director of the Society of Hope, a non-profit dedicated to developing social housing in Kelowna.
"The position I take is that we should do everything we can to increase the rental housing supply, whether there is a good or bad market," Stack says. "This is a popular place to live and there is going to be ongoing pressure."
Kelowna has been flirting with a near-crisis level of rental housing supply, a landlord's market with a vacancy rate of one per cent last year. That has ticked up a bit to 1.5 per cent, according to the Canadian Mortage and Housing Corporation, but is still not in the two to four per cent range Stack considers optimal.
"Once you get in there, positive things start to happen, at least for renters," Stack says. "Landlords start renovating their properties and they drop the rents to attract tenants."
Tick up too high, though, and landlords will start losing money because of too many vacancies, driving some of them out of the market and reducing supply.
A balanced rental market, on the other hand, offers stability to landlords and has the added effect of addressing affordability, another area where Kelowna has problems, Stack adds.
The B.C. Non-Profit Housing Association's rental housing index ranks Kelowna as being in crisis because of high rents that are forcing some tenants to spend as much as 50 per cent of their income on housing.
The city saw plans for more than 300 new purpose-built rental units begin development this year, the first time it has reached the goal council set in the 2012 housing strategy.
That stacks up to the 489 rental units constructed in the city between 2010 and 2014, just a third of the desired number despite a raft of incentives.
Developers of purpose built rental properties in Kelowna can apply for direct rental housing grants — the city gave out $286,000 worth of them for 2016 — as well 10-year property tax exemptions when the vacancy rate slips below three per cent.
In addition, developers of so-called micro-suites — suites less than 29 square metres — are eligible for developement cost charge exemptions.
Long range policy planner James Moore says the jump in rental housing construction is a sign that developers are finally returning to the multi-family housing market, after getting burned during the 2008 downturn.
"It takes more than just incentives. It takes a lot of time for confidence to build back up and I think we are seeing developers cautiously putting their feet back into the market," Moore says.
While development didn't stop during the intervening years, the focus was more on single-family residential and townhouses, Moore adds, in part because there is less risk in financing and building them as compared to large multi-family developments.
What's also helping, Moore says, is that some bigger developers have jumped into the market, including Al Stober Construction, with a micro-suite development on Dickinson Avenue.
"We're certainly hoping leaders of the industry will perceive the need and take the leap. Others will soon follow."
What remains to be seen is if the numbers hold up.
"It's encouraging. It's looking healthier than it has been in the recent past," Moore says of early indications drawn from developer enquiries.
About the only thing the city hasn't done is become a landlord itself. Both Stack and Moore say the city creating its own housing authority isn't on the radar.
"That issue has been explored years ago by the housing committee. The consensus was not to pursue that as a role for the city," Stack says.